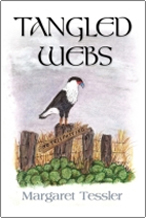 If you travel Texas Highway 16 from San Antonio to Zapata, it becomes increasingly lonely. Sometimes your only company is a caracara hunched over his fencepost like some gloomy sentinel who's assigned himself the job of discouraging trespassers.
And trespasser I was….
Funny and nosy, San Antonio Attorney Sharon Morgan has resolved never to return to her hometown, until she gets a desperate call regarding the mysterious death of her friend Laura Velásquez.
When Sharon arrives in Zapata, she reconnects with her childhood sweetheart, Ryan Salazar. From him she learns that her old nemesis Bernice Peralta was not only blackmailing Laura, but wreaking havoc on the entire Salazar family as well. Sharon soon realizes that until family secrets are brought to light, Bernice's vindictiveness will only escalate.
Propelled by humor and the interaction of the characters, Tangled Webs weaves its way through a maze of intrigue to its final resolution.
Tangled Webs by Margaret Tessler
First in the Sharon Morgan-Salazar mystery series
2011 New Mexico Book Awards Finalist
Published by BookLocker
Pages: 300
Click here to read an exciting excerpt!