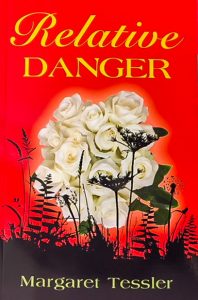 In
Relative Danger
, Jossenda Ledesma is one of those people "no one in the family ever talks about." But after twenty years of being an outcast, she suddenly shows up at a family gathering. She latches onto Becca Sandoval, a relative newcomer to the clan, who is in the dark about the hostility surrounding the woman. Becca soon learns that Jossenda is not only ill-mannered and belligerent, but also a member of a questionable "religious" cult. To escape Jossenda's interference in her life, Becca must unmask the secrets of Jossenda's personal animosity as well as the sinister activities of the cult.

In
Glass Houses
, when Sharon Salazar agrees to house-sit for a friend on beautiful Mustang Island, she envisions relaxing on the beach with her husband, Ryan, or curled up with a good book with the resident cat on her lap. Instead, she finds herself
embroiled in a troubling chain of events that involves the family who is visiting next-door neighbor Charlotte Avery.

In
Tangled Webs
, a disturbing chain of events is set in motion when Sharon receives a call from a girlhood friend about the
mysterious death of a mutual friend. What follows is the untangling of a web of family secrets and the motives behind a
vindictive blackmailer.

In
Class Disunion
, Sharon finds that mind games lead to murder when she joins the committee to help plan something as
innocent as her twentieth high-school reunion. As she closes in on the killer and his twisted schemes, she finds her own life in
danger.

In
Black Widow White Lies
, Sharon finds herself drawn into an intricate game of cat-and-mouse as she faces a number of
disturbing questions. Who is the mysterious stranger who appears in Chama, New Mexico, where the Salazar family is
vacationing? Sharon's old enemy, or simply a harmless look-alike? A dangerous manipulator, or the innocent victim of petty
gossip? If she's not guilty of planning murder, then who is?

In
Deadly Triangles
, Sharon and Ryan Salazar's peaceful vacation on Mustang Island is upended when their nephew Miguel
Meléndez becomes the prime suspect in the murder of a conniving woman he'd been dating. Sharon must travel a complicated
maze of intrigue in her efforts to exonerate Miguel and pinpoint the real killer.

In
Casting Shadows
, together with their friends, the Salazars have planned a cheerful winter vacation in Cloudcroft, New
Mexico. But their well-laid plans take a detour when they stumble upon the body of a missing teenager. The girl's friends might
hold the key to her disappearance, but they've made a pledge to keep silent.