When Sharon Salazar agrees to house-sit for a friend on beautiful Mustang Island, she envisions relaxing on the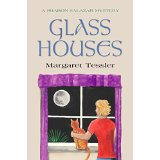 beach with her husband, Ryan, or curled up with a good book with the resident cat on her lap. Instead, she finds herself embroiled in a troubling chain of events that involves the family who is visiting next-door neighbor Charlotte Avery.Charlotte's nephew, the uptight Edmond Woodbridge, is an attorney, supposedly in town on business. But he's quite secretive about his activities.Edmond's surly daughter, Tangerine, presents conflicting accounts of an accident in which several teenagers are injured, one fatally.Edmond's son, Jason, seems to be the only "normal" member of the family, but Sharon soon realizes he's not as open as he appears.
The turning point for the Woodbridges comes when another teenager is found strangled on the beach. As her murder is investigated, closely guarded family secrets gradually come to light.
Glass Houses by Margaret Tessler
Sixth in the Sharon Salazar mystery series
Finalist  in the 2015 New Mexico/Arizona Book Awards
Published by BookLocker
Pages: 208
Click here to read an exciting excerpt!