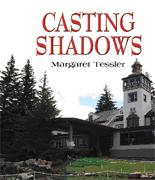 Casting Shadows is the fifth in Margaret Tessler's mystery series featuring Sharon and Ryan Salazar. Together with their friends, the Salazars have planned a cheerful winter vacation in Cloudcroft, New Mexico. But their well-laid plans take a detour when they stumble upon the body of a missing teenager. The girl's friends might hold the key to her disappearance, but they've made a pledge to keep silent.
On a mission of her own making, the obnoxious Alvina Piffle tracks down suspicious activity that leads in another direction.
Meanwhile, in conjunction with the local authorities, Sharon and Ryan find themselves untangling seemingly disjointed threads to the mystery. Little by little, those links come together in a chilling and unexpected solution to the story.
Casting Shadows by Margaret Tessler
Fifth in the Sharon Salazar mystery series
2013 New Mexico-Arizona Book Awards Finalist
Published by BookLocker
Pages: 246
Click here to read an exciting excerpt!