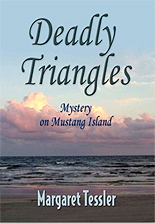 Trouble has a way of upending Sharon and Ryan Salazar's peaceful vacations. The latest predicament begins when their nineteen-year-old nephew, Miguel Meléndez, becomes involved with Bianca LaCroix, a predatory woman twice his age. When she's found stabbed to death on the front lawn of the Salazars' cottage on Mustang Island, Miguel becomes the prime suspect.
To exonerate Miguel, Sharon tunes in to the undercurrents of neighborhood gossip. She soon discovers Bianca had any number of enemies with compelling motives for murder. Sharon must travel a complicated maze of intrigue before pinpointing the real killer.
Deadly Triangles by Margaret Tessler
Fourth in the Sharon Salazar mystery series
2010 New Mexico Book Awards Finalist
Published by BookLocker
Pages: 194
Click here to read an exciting excerpt!