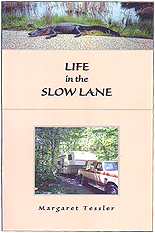 One pessimist declared we wouldn't last six weeks. Our parents were puzzled but hopeful. Our children said, "Go for it!"
And go for it we did. With our nest emptied and retirement behind us, my husband, Howard, and I sold our home, moved into a thirty-foot travel trailer, and set out to tour the country.
Life in the Slow Lane is a humorous account of the adventures (and misadventures) we encountered along the way. Our full-time journey lasted nearly eight years. Our memories will last a lifetime.
We now live in Albuquerque, New Mexico, but still enjoy traveling from time to time.
Life in the Slow Lane by Margaret Tessler
Published by Xlibris Corporation
Pages: 180
Click here to read an excerpt!
See what others are saying about the book!